Everything Starts
With The Fabric
Officine Paladino is a purveyor of exquisite fabrics for the modern gentleman. To help you define your sartorial journey, we curate high-quality fabrics inspired by a fast-paced and evolving world. Join us in reinterpreting the rules of modern menswear.
An Eco-Evolution is the culmination of our passion for sustainable and high-performance fabrics. This collection comprises three different cloths that are unified by incredible comfort and crease resistance. They are imbued with innovative qualities such as stain and water resistance, weaving refined style with versatility and material excellence.
The fabrics are woven exclusively from mills in Italy and England providing a dynamic variety of handle, designs and colours. We invite you to discover these perennial and evergreen fabrics, designed to meet your sartorial needs anytime, anywhere.
This book showcases our collection with stylistic inspirations that speak the modern language of menswear today. We hope it inspires you to craft your own looks with our fabrics. Use the Styling Tool at OfficinePaladino.com to explore all our collections and realise them with your trusted sartorial partners.
This is your moment,
made to measure
An elegant plain weave cloth with unparalleled performance. Developed in Italy with high twist yarns, these Super 130's are lightweight yet durable with a natural elasticity.
This range offers a reinterpretation of micro designs, smaller checks and variations of glen plaids. Denim and earthy hues were colour inspirations.
For the digital nomad constantly on the go, these are an ideal choice.
Ethically Sourced
Plain Weave, High Twist
Crease Resistant
Stain Repellent
Water Resistant
Natural Stretch
Woven in Italy
Breathable
For All Garments
super 130's wool / 260gms
An innovative performance fabric with a luxurious soft handle. These Super 130's twills are woven with mouline yarns, allowing for a unique depth in colours.
This range offers a large variety of plains and a selection of fancies in cool tones of comfort grey, film green, midnight blue and rust brown.
These fabrics offer effortless style with all-day comfort, for every occasion and any purpose.
Ethically Sourced
Twill Weave, Soft Touch
Crease Resistant
Water Resistant
Natural Stretch
Breathable
Woven in Italy
For All Garments
super 130's wool / 290gms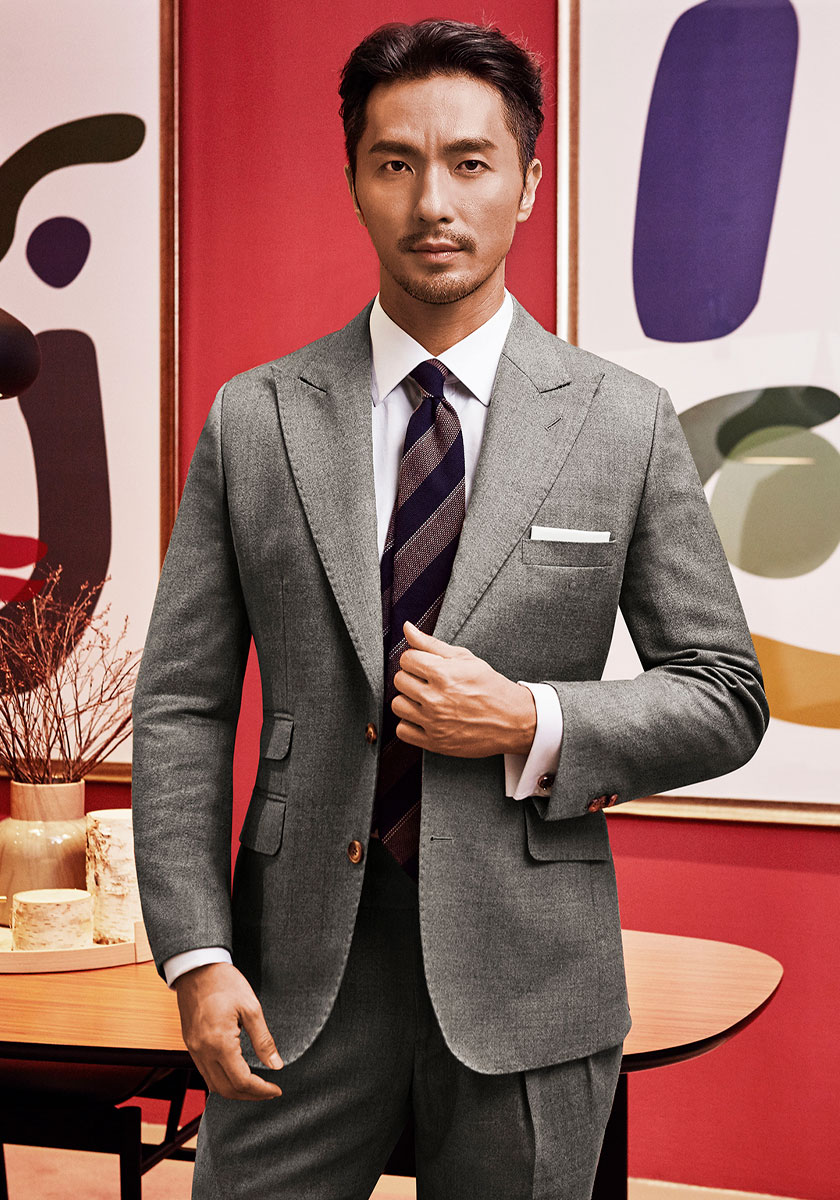 super 130's wool / 290gms
An English cloth with uncompromising recovery and crease resistant properties. Woven in a traditional plain weave with intentionally heavier wool, this cloth is energetic and full-bodied.
Marrying classic English heritage with current trends, this range offers a broad variety of plains in classic and seasonal colours and patterns such as windowpanes and chalk stripes.
An ideal cloth for the suit-savvy gentleman in search of impeccable style.
Ethically Sourced
Plain Weave, Crisp Handle
Crease Resistant
Woven in England
Breathable
For All Garments